Imagineer Harriet Blog
by Imagineer Harriet on 02/28/11
Last month I received an email from a mom of a 9 year old who was hoping to order a book and scarf for her daughter who was planning to do a biographical presentation for her class at school on Harriet Burns, having been interested in the females who worked in a creative capacity at Disney. Since we discovered that we had the same area code, we met in person to do the transaction and book dedication! Here is my recap from the presentation.


A particularly well-coiffed local third grader, Kaitlin, took her position at the front of the classroom, adorned in her pink suit and Harriet scarf where her poster hung behind her and a decorative parrot sat atop a digital tablet alongside a standing copy of
Walt Disney's First Lady of Imagineering, Harriet Burns
. Her opening statement on her chosen biographical subject began, "My name is Harriet Burns. I was born August 20, 1928 in San Antonio, Texas..." and she went on to describe her background and her work for Walt Disney designing such attractions as "the Sleeping Beauty castle, Story Book Land, Haunted Mansion and the Tiki Birds." She described working alongside the men in the model shop using power tools and having the reputation as the best dressed in the department. Kaitlin's digital tablet lit up and played a colorful slide show of Harriet's work to the backdrop of the familiar Tiki Tiki Tiki Room song, stirring the kids to sway in rhythm and break out in grins as they recognized a familiar tune. As she concluded her talk, she added, "and her daughter is here at the back of the room," at which point I was brought up and introduced and asked to help answer questions.
Hands burst into the air with great enthusiasm and patience as they had to wait their turn to be selected by Kaitlin. Some tried to answer the questions I was asked, such as what is an
Imagineer
...one pointed to her own poster already on display in the classroom, having done her presentation on Walt Disney. One asked if the bird on her finger--referring to the slide of Julie Andrews as Mary Poppins--real? This led to a discussion about Harriet studying and experimenting to make the audio-animatronic robin on Mary Poppins' finger appear real...as well as the Tiki Birds (
Click Here
to hear Harriet discuss this subject in her own words).
Several asked "How old was she when she died?"...I was asked, "Did she work on Fantasia?" and "Did she work on the movie Polly?" [I didn't realize at the time this referred to the movie that retells the Pollyana story which did debut when I was a child but I don't believe she worked on]..."What school did she attend that trained her to become an Imagineer?" Kaitlin and I, both wearing our commemorative Harriet scarves, were asked if we were related, to which Kaitlin explained no--she and her mom had searched the internet for a biographical subject, found our book and through email transactions with her mom, discovered we were in the same locale! The topic of our matching scarves segued into describing how the scarves had come about and Kaitlin explained that it was a collection of sketches and design by Harriet's friends as she untied her scarf and opened it for the class to see.
As the presentation drew to a close and the students began to applaud, Kaitlin interrupted, "Oh there's one more thing I'd like to add: Harriet always said 'Oh--you shouldn't have!' Like when someone would open a door for her or even if it was her birthday and they tried to do something nice for her, she would say, 'Oh, you shouldn't have,'" to which I added the hand gesture that usually accompanied this quote. As I exited the classroom, I stopped at Kaitlin's desk where she was sitting after she was congratulated by several peers, and whispered to her, "My mom would have been honored. She would have said, 'Aw, you shouldn't have.'" She grinned, a little sheepishly.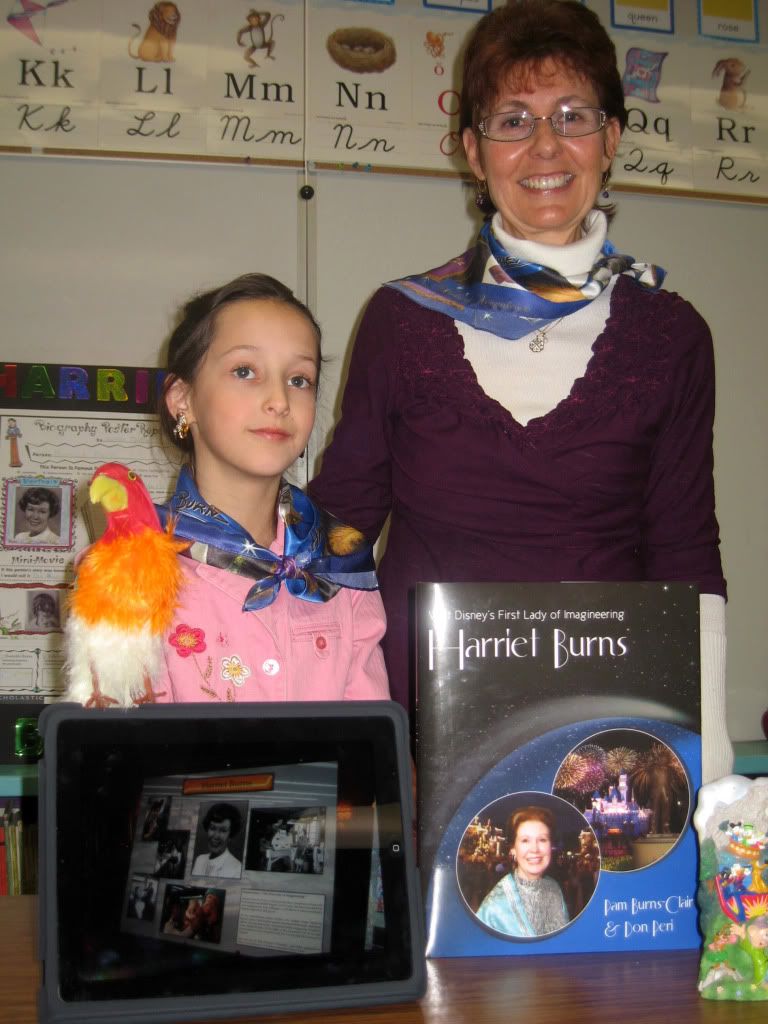 by Imagineer Harriet on 02/23/11
Thank you for visiting imagineerharriet.com! We are excited to have a new blog feature where we'll share stories about Harriet and her work with Disney. We continue to discover fun pieces of Disney history among Harriet's things, so we'll share some of it on our blog. Here's a photo of Harriet's window in the Disneyland park, over the Emporium and right next to the firehouse. Next time you're in the park be sure say hello to Harriet as you pass by :)
We hope you'll stop by again soon. Cheers!